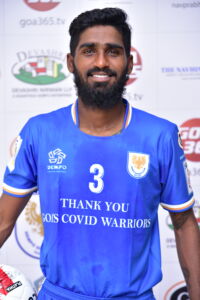 Dempo Sports Club is delighted to announce the signing of Gaurav Vaigankar. The Club and the Defender have agreed on a deal until the end of the 2020-21 Season.
The young defender, still only 22 years of age caught the eye of Head Coach Samir Naik during his stint in the Goa Professional league last season and was identified as a possible option to go for in the January Transfer Window. With the Club placing more emphasis on Youth, Gaurav is a player that will slot in well with the Club's vision, and having made 15 appearances in the Goa Professional League last season, he will be well accustomed to what is required to succeed.
Speaking to the club following his move, Gaurav said, "I am extremely fortunate to play for Dempo Sports Club, one of the most well-known Clubs in India. I will give my best to uphold this great club's legacy."
Gaurav has opted to wear the number 3.