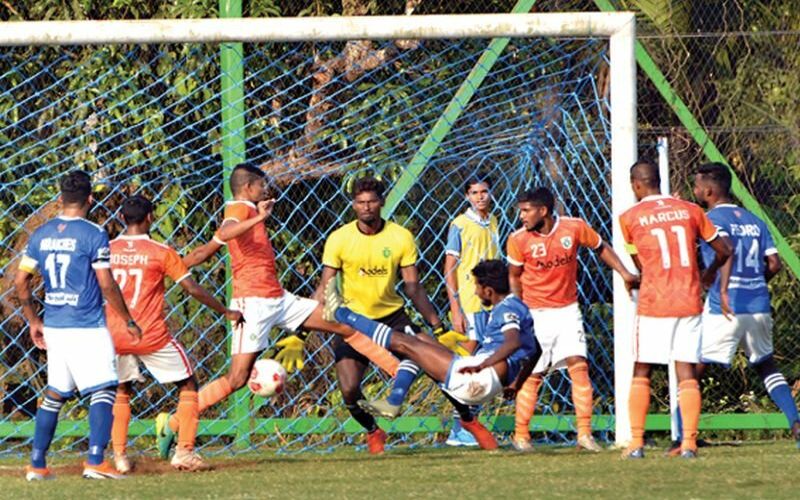 Sporting Clube de Goa needed a second half penalty to hold Dempo Sports club to a 1-1 draw in the Goa Football Association (GFA) Professional League at Dempo SC Academy ground in Ella at Old Goa on Saturday.
Dempo SC started knowing that a win would help them regain the top slot and slotting aware that a win would enhance their position at the top. However, the over watered ground, seemed to effect both teams play with the fans being the biggest losers.
Sporting Clube de Goa started with more purpose and enjoyed the first twenty minutes with Stendly Fernandes possessing the biggest threat with his midfield mastery. Sporting got two good chances during this time and on both occasions U-20 Shanon Viegas displayed finishing inabilities, thus giving the hosts the much desired breathing space.
Dempo SC, on the other hand, played sporadically and it took the team a good 25 minutes to make their intent known and it resulted in the first goal of the evening. Yogesh Kadam ran down the left and sent in a nippy cross that was well intercepted by Joaquim Abranches. Joaquim, however saw his attempt graze past sporting keeper Melroy Fernandes for a corner.
Debutant Niraj Parekh delivered the corner – which foxed four Sporting defenders – and allowed Alber Gonsalves score the opening goal.
The goal caught Sporting on the wrong foot and Dempo kept trying to break through the Sporting defense and the former almost consolidated their lead in the 39th minute when Pedro and Nickson castanha combined well to force Melroy come out with another good save.
Both teams trooped for the break with the hosts leading by a goal.
Sporting Clube restored parity five minutes into the second half when they were awarded a penalty after the referee adjudged that Shallum Pires had handled the ball in the box. Clive Miranda converted the penalty by sending goalkeeper Luis Barreto the wrong way.
Both coaches made changes in the second session with Samir bringing in Suraj Hadkonkar in place of debutant Niraj who still appeared to need time to adjust to the Dempo style of play and Sporting's Savio replacing Stendly with Akeraj Martins. The changes did not reflect on the rest of the game with just two goal scoring chances created.
First, Philip of Sporting shot out when he could have easily done better and towards the closing minutes of the game substitute Desmon Pereira saw his try kiss the horizontal after having beaten Melroy for the first time.