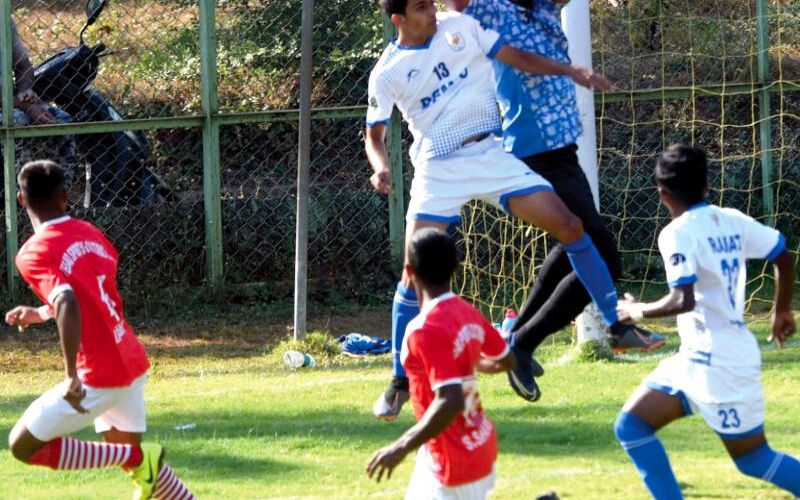 Despite having more ball possession and several goal scoring chances in both the halves, Dempo Sports Club huffed and puffed and finally settled for a 1-1 draw against a spirited Velsao Sports and Cultural Club in the GFA Professional League match played at Rosary grounds, Navelim on Friday.
After collecting one point from the drawn encounter, Dempo SC are now on 28 points while Velsao SCC have 9 points in their kitty.
Velsao SCC stunned their more fancied rivals in the 37th minute when they went into the lead much against the run of play. Jesloy Moniz passed the ball to under 20 striker Romario Costa who took in his stride two Dempo SC defenders, and even as Dempo keeper Luis Barreto rushed forward, the young striker smartly placed the ball to the far corner of the nets.
Dempo SC dominated the proceedings all through and looked like they would go into the lead first, but poor finishing abilities of their strikers meant that their goal column remained blank.
Season campaigners in Joaquim Abranches and medio Kirtikesh Gadekar disappointed big way as they failed to find the mark even from close distance, in the first half. Later when Beevan D'Mello, Velito D'Cruz and Alber Gonsalves were inducted, they too committed the same mistakes, but finally Beevan turned out to be Dempo SC's saviour as he scored in the 84th minute to draw level.
Alber Gonsalves, who had some fine touches, moved his way down the left flank and after hoodwinking a couple of Velsao defenders passed the ball to Beevan whose stiff grounder gave no chance at all to Velsao SCC keeper Presley Mascarenhas.
Earlier, much against the run of play Velsao made most of their only opportunity and went into the lead when young Romario slammed the ball in to beat an experienced keeper in Luis Barreto.
The second session also belonged to Dempo SC for major part of the proceedings. The team could have scored at least six goals if not more, but Beevan and Abranches lost most of the chances that came their way.
On one occasion, defender Shallum Pires had a golden chance when Suraj Hadkonkar laid a good cross to him, but the defender could not take the advantage of the good opportunity.
Beevan made amends and scored the leveller to provide relief to Dempo SC as they teams split points for the day.
Six minutes from end, Beevan had a great chance to put Dempo SC into the lead but he somehow messed up the chance big way.