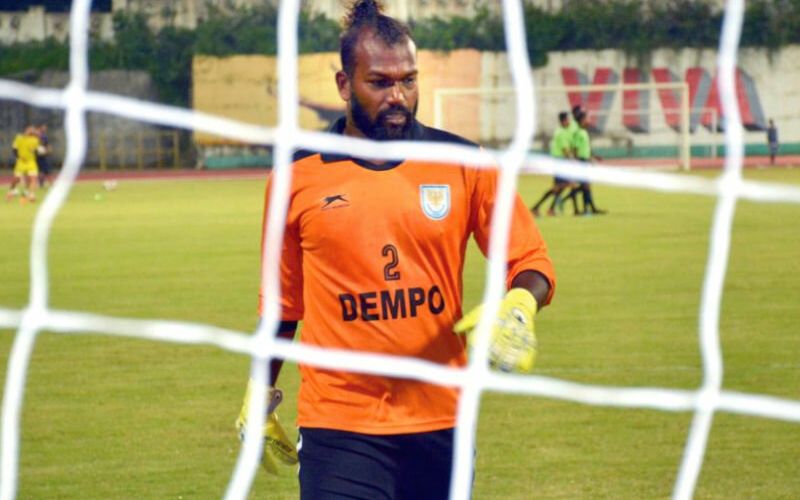 Dempo Sports Club is going through a midfield crisis and Panjim Footballers capitalised on it to share points in a goalless encounter of the Goa Football Association (GFA) Professional League match at Dempo SC Academy ground, Ella, Old Goa on Friday.
In a game that was dominated by Dempo – despite a non functional midfield led by captain Velito Cruz – it was goalkeeper Luis Barreto who saved the team the blushes with three fine saves during the ninety minutes of play, one of which was a penalty.
Dempo SC started with enthusiasm, despite the absence of Joaquim Abranches and Alber Gonsalves with Desmon Pereira, Yogesh Kadam cutting through the left and and U-20 Ariston Costa, who did not impress against Churchill, playing an improved game on the right. However, goals eluded the team as they lacked a striker with focus.
Panjim Footballers got their first chance to score when the game was five minutes old. Lloyd Cardozo on being fed through unleashed a power-packed shot towards the top of the Dempo goal which was brilliantly thwarted by Luis Barreto at the expense of an abortive corner.
The rest of the second session belonged to Dempo SC in terms of possession and not domination. Panjim Footballers played second fiddle and came into action in the last minute of the session when they were awarded a penalty for a foul by Luis on Lloyd. Akash Sanadi who stepped in to take the penalty failed to deceive Luis who dived in the right direction and neatly collected the ball on second attempt.
Dempo coach Samir brought in Beevan and Suraj Hadkonkar during the second half but the introduction did not change Dempo's course of play. In fact, Panjim Footballers played with more purpose – though they largely relied on counter forays – and it was Lloyd who once again could have given his lead but his attempt was once again foiled by Dempo keeper Luis.
Dempo SC had two clear chances in the second session and on both occasions Latesh had just Panjim Footballers' keeper Preston Rego to beat but the former showed a fickle mind on both occasions. Dempo came closest to scoring, and it was the only time when the Panjim Footballers keeper was tested, in the 70th minute when Pedro Gonsalves let go a piercing free kick that was saved by a diving Panjim keeper.