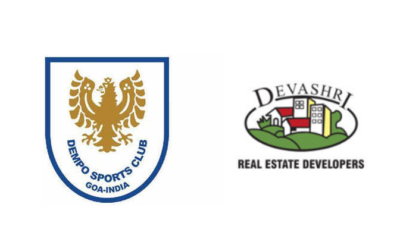 Dempo Sports Club is pleased to announce that Devashri Nirman LLP will be associated with the club for the 2020-21 season of the SELVEL Goa Professional League.
As part of the Tie-Up, Devashri Nirman LLP will occupy the right sleeve of the Club's Jersey for the current season that kicks-off on 27th January 2020.
Devashri Nirman LLP is a leader in Goan real estate, building quality homes in Goa since 1993. Trusted by its homeowner and investor customers, Devashri provides excellent quality & cost-effective housing solutions to the people of Goa. With a mission to excel, they have completed many landmark projects.
Speaking on the partnership, Dattaprasad Priolkar, General Manager of Devashri Nirman LLP said "Dempo Sports Club is an iconic brand, a pioneer in Goan football, and has a broad appeal among Goans, Goan diaspora, and football lovers across the nation. We are proud to connect our brand Devashri Nirman LLP, with Dempo Sports Club, an iconic football brand in India."
Speaking on the partnership, Patwin Fizardo, General Secretary of Dempo Sports Club said, "To have such a well trusted Goan brand endorse the club is something we are truly grateful for. We are delighted to have them aboard for another year and are extremely delighted to continue this wonderful association.