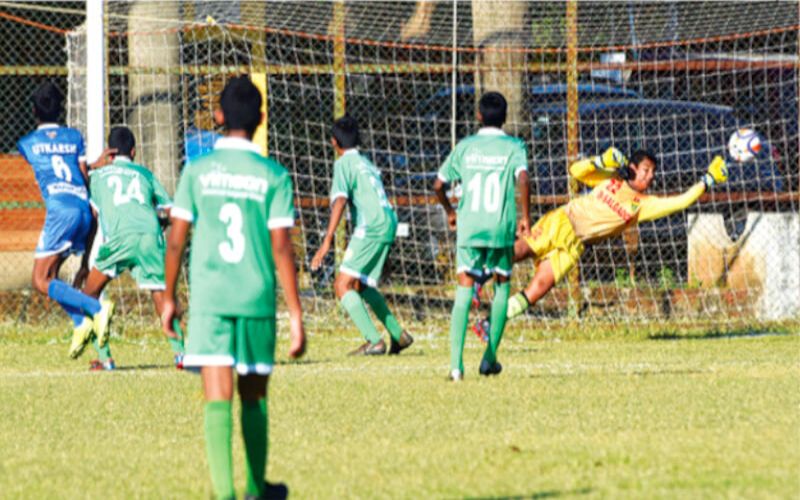 Salgaocar FC climbed to the top of the All India Football Federation (AIFF) Sub Junior League (U-13) after sharing points with Dempo Sports Club as both teams played goalless draw at the Nagoa Panchayat ground in Nagoa, Verna on Tuesday.
Salgaocar are on top with five points from three games whilst Dempo SC are second with four points from two games. FC Goa are third and Sporting Clube de Goa and Churchill Brothers FC are second last and last respectively.
The panchayat ground in Nagoa was brought back to life with some entertaining football by the youngsters of both teams. Age is no bar, was the lesson learnt during the seventy minutes of play as both teams demonstrated a love and understanding for the game.
Dempo SC were the first to get into action when in the very fourth minute Utkarsh Kudalkar let go a powerful shot which was equally well kept away from goal by Salgaocar keeper Reihan Gomes.
The game, thereafter, was a battle of the midfield with Salgaocar dominating but unable to get past the physically stouter Dempo defenders. Dempo, on the other hand, tried to break the Salgaocar defence with speed and succeeded on a number of occasions only to be denied by Reihan.
Dempo had their best opportunity to break the deadlock when in the 27th minute Swavel Furtado had just the Salgaocar keeper Reihan to beat but the former fumbled in a one-to-one situation.
Salgaocar retaliated – and it was their first potent chance of the first session – in the 30th minute through Franson Furtado who had the mortification of seeing his powerful free kick saved on the first attempt by Dempo keeper Mohamad Totad.
The second session was similar to the first, with the Dempo lads being unable to get past Salgaocar keeper Reihan who time and again had to come out of his charge to intercept the long balls sprayed in front for the Dempo strikers.
As the evening wore on, it was pleasing to note that players of both teams enjoyed the ball in the manner in which they kept possession; the manner in which they tried to find their colleagues; the manner in which they kept the ball – though sometimes a bit too longer, and showed that football was about enjoying.
Dempo SC got another golden opportunity to take the lead when in the dying minutes of the game Swavel controlled a through ball, but once again could not beat Reihan under the Salgaocar horizontal.