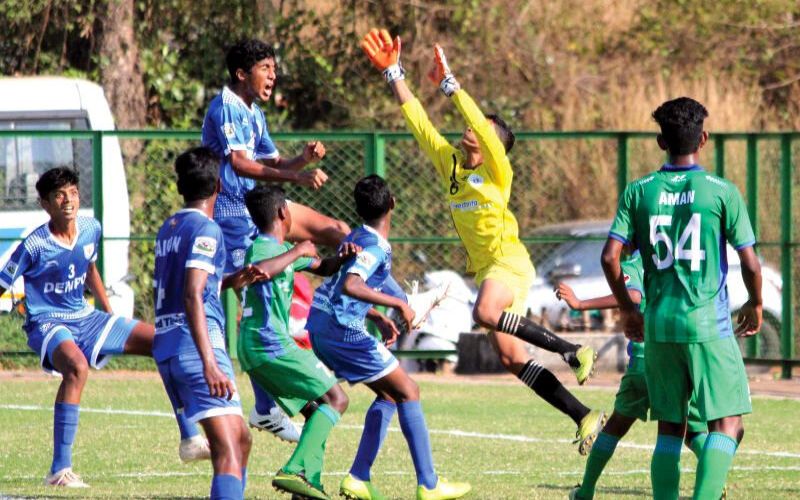 Dempo Sports Club maintained their winning track with an emphatic 6-1 win over Sesa Football Academy (SFA) in the All India Football Federation (AIFF) Junior League (Goa Zone) match at Dempo SC Academy ground in Ella, Old Goa on Friday.
Dempo Sports Club's superiority was never in doubt from the start and the winners went about their job with relative ease scoring the first at around the half hour mark and rarely giving SFA a whiff of a fight back.
If Dempo SC did not score more it was because of SFA goalkeeper Mansur Manki who kept many attempts at bay and their right winger Atharv Ghadi who occasionally tried to break through the Dempo defense from the right.
Dempo SC started scoring in the 29th minute through Sairon Albuquerque – who ended up scoring a brace along with captain Shreyash Naik. Shreyash could have swelled the score if not for the two missed chances – one which was a penalty saved by SFA keeper Mansur.
Arnold Oliveira played a definitive role in Dempo's midfield with his runs down the flanks and it was his run that paved the way for the first goal when he dribbled past three SFA players on the flank, halted-looked around, saw Sairon open and lobbed the ball to him to chest into an open goal for the first goal.
Dempo SC consolidated the margin five minutes later when Yashas Kolgaonkar headed the ball in off a corner and the goal, in many ways, signaled the end result.
Rohit created the spadework for Dempo's third goal when he ran down the flanks and on entering the SFA box drew a defender out and passed the ball to Sairon who had all the time to tap the ball into an empty goal.
Captain Shreyash further struck another nail in the SFA coffin, before the half time mark when he headed in a cross from Clarence Fernandes. With four goals scored, the winners trooped for the break at leisure.
Dempo SC started the second half with equal venom as the first and in the first ten minutes missed two gilt edged chances with Shreyash unable to convert a penalty and Arnold blasting away from close. The Dempo SC dominance was clear with the boys from the Academy varying with their set pieces– something not seen done by other teams.
Sesa's only chance fructified in the 61st minute when they were awarded a free kick from 30 yards and Gabriel Gomes who took it saw Atharv heading the ball in for Sesa's only goal of the evening.
Dempo hit back quickly in the 68th minute when Rohit Shirodkar converted a corner taken by Arnold and Shreyash finished the tally for Dempo when in the 73rd minute he combined with Arnold to leave the Sesa lads in the dumps.